As cloud-based software vendors seek out new ways to drive revenue for their organizations, many look in the direction of the lucrative public sector market. Worldwide government IT spending was forecasted to hit $483 billion in 2021, an increase of 5.1% from 2020, according to the latest forecast by Gartner. That should only increase in 2023, and it seems too big of an opportunity to let your competitors have all to themselves.
How long does FedRamp certification take?
The U.S. government requires all cloud services used by federal agencies and organizations to meet a vigorous set of security standards known as the Federal Risk and Authorization Management Program (FedRAMP). FedRAMP compliance is a must for software vendors who want to be considered in Federal bids, but the path to FedRAMP can be complicated, expensive, and time-consuming. Getting past all the processes, procurement, documentation, and certifications involving the Federal Government can take much longer than you might think. And if you're thinking about tackling FedRAMP with the traditional consulting services approach, you're most likely looking at 18-24 months of work and a $1-2 million dollar price tag. That's a timeline to FedRamp compliance that could dramatically push your time-to-revenue out to 2024 (not even close to a bid in 2023!). At this rate, your competition will be leaving you in the dust.
Anitian has created a new, modern, and automated path to FedRAMP that helps cloud software vendors prepare to be considered for 2023 Federal bids and Requests for Proposals (RFPs). Now you can get FedRAMP audit-ready in 80% less time than if you were to take the traditional consulting services approach which is why more cloud software vendors are turning to Anitian than ever before. Leveraging Anitian's compliance automation capabilities could be the difference between your organization entering new markets and unlocking revenue in just weeks or waiting months, even years. Why risk it? Let's drill down into the dates and show you how we can get you there, together.
FedRAMP Timeline & Milestones
As you look to pursue 2023 Federal Government bids, make sure you keep pace with these critical FedRamp timeline milestones.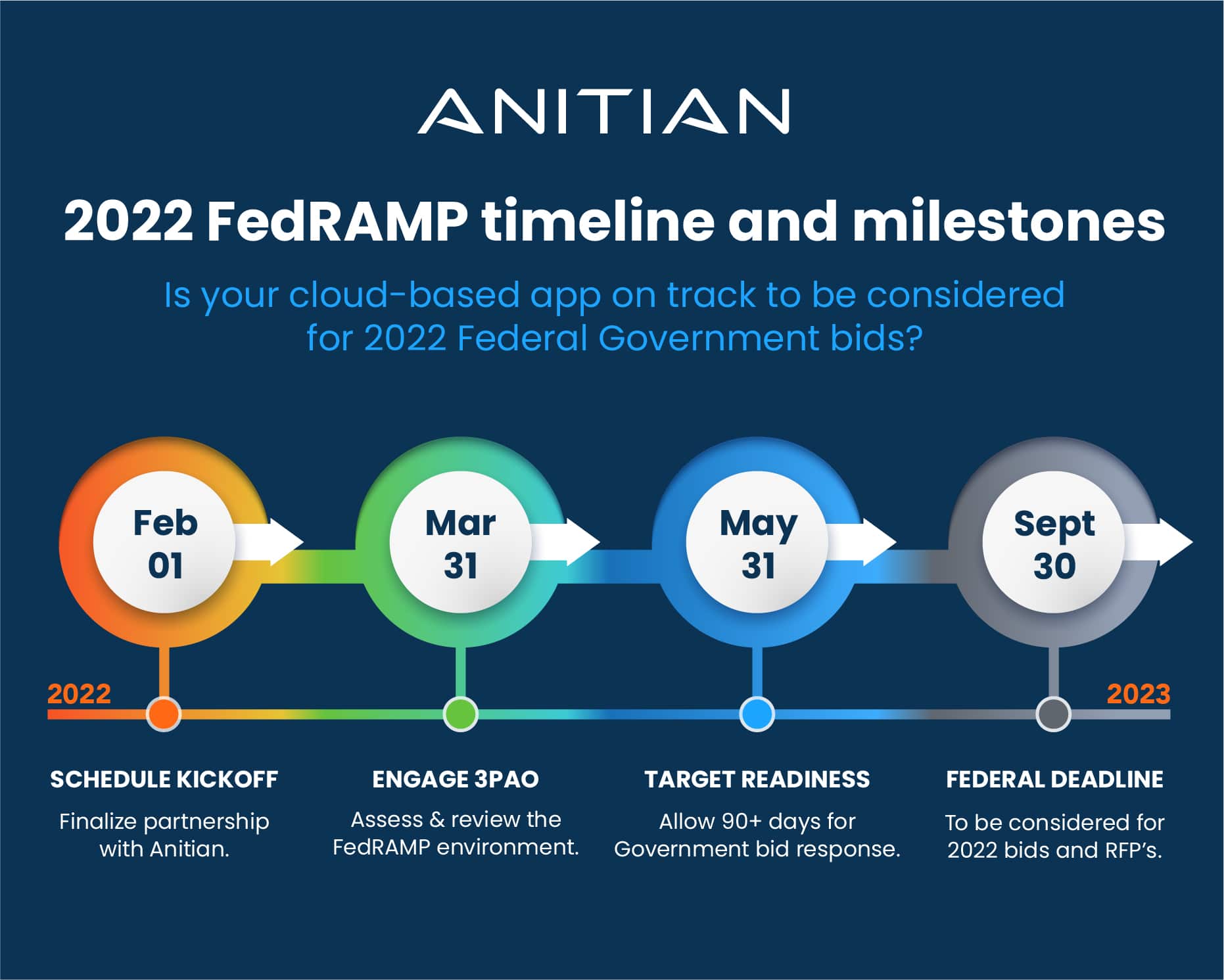 By February 1, 2023, you should schedule your FedRAMP project kickoff call with Anitian and your technical and/or business teams. If you haven't already done that, you can schedule a call. It may not be too late.
By March 31, 2023 (or earlier), you should be engaged with a 3PAO (Third Party Assessment Organization), so you have time to schedule and complete their FedRAMP audit process. Anitian has close partnerships with most of the top FedRAMP 3PAOs, so we can help you in the selection process.
May 31, 2023 should be your target date for having your cloud software applications ready and in the market. Keep in mind that a typical government agency response cycle is 120 days to respond to bids.
September 30, 2023 is the Fiscal Year-End deadline for any vendor to be considered for 2023 Federal market dollars.
Meet 2023 Federal Bid Deadlines and Become a FedRamp Vendor
Wrapping your head around this timeline can be the difference between getting your cloud software bids in front of your federal buyer in 2023 or having to wait another year or more.
To learn more about how you can get your cloud apps FedRAMP audit-ready in as few as 60 days and at half the cost, chat with our sales team today.