As Enterprises Race to Embrace Cloud Security and Compliance Automation, Anitian Announces Explosive Growth and Customer Momentum
Anitian, the leading cloud application security and compliance automation provider, announced today record year-over-year customer growth in a challenging year like 2020. 
Anitian Announces Collaboration with Microsoft Azure
Anitian, a leading provider of cloud security and compliance automation solutions, announced today a collaboration with Microsoft to deliver its Compliance Automation Platform on Microsoft Azure. 
Anitian Launches SecureCloud on AWS: A Cloud Security Service Pre-Engineered to Deploy and Protect Your Mission-Critical SaaS Applications
Anitian today announced SecureCloud, a new pre-engineered security service on Amazon Web Services (AWS). SecureCloud addresses a daunting challenge for business, DevOps, and security leaders: rapid deployment of applications and services to customers – without sacrificing security measures or privacy protections.
Anitian Ranked #14 in "100 Fastest Growing Companies in Portland 2021: Top Startups" | Growjo
"Today we awarded the fastest growing companies in Portland, Oregon for 2021. For Portland's size it has a great startup scene. The most active Angels and VC include the Portland Seed Fund, Oregon Angel Fund and Elevate Capital. The rankings below are based not just on growth in the past year, but also what we predict their growth to be in the future."
What Is the Impact of Slow FedRAMP Approval? | GovLoop
"Federal agencies are under increasing pressure to modernize IT infrastructure and improve efficiencies across the board. To do that, they need to replace legacy infrastructure and applications with modern, secure cloud-based solutions."
Streamlining FedRAMP Compliance With Automation | Carahsoft Blog
"When it comes to using cloud computing, federal agencies turn to the Federal Risk and Authorization Management Program (FedRAMP) to certify that their cloud-based solutions are secure and compliant with federal regulations."
For Most Companies, Securing Remote Work is Unfinished Business | Infosecurity Magazine
"I don't see a way to safely accelerate the move to cloud without DevSecOps as part of the equation to maintain quality and incorporate security into the transition, potentially utilizing the expertise and software of DevSecOps providers such as… Anitian to assist."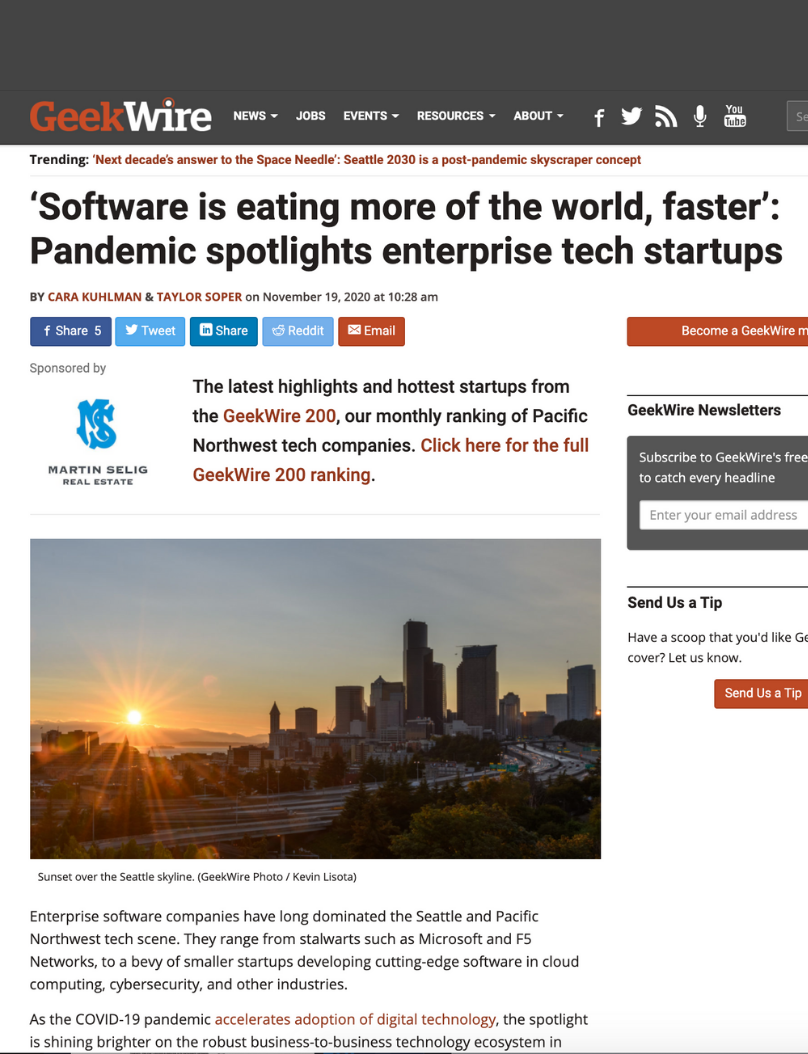 'Software is eating more of the world, faster': Pandemic spotlights enterprise tech startups | GeekWire
"Among enterprise software startups… Anitian (No. 176) had the biggest upward movements."
Goldman Sachs and JPMorgan will freeze software updates around the US election to minimize service outages, report says | Business Insider
"Outages set off by disruptive software updates could be an opportune moment for cybercriminal attacks, the Information said, citing Andrew Plato, CTO and Founder of cloud-security firm Anitian."
Remote workforce, web portal, and DevSecOps: Three focus areas for cybersecurity | AWS Public Sector Blog
"Anitian, an AWS Advanced Technology Partner, created Anitian's SecureCloud, an automated, pre-engineered security platform that accelerates DevOps. SecureCloud eliminates the frustrating and time-consuming effort of architecting, deploying, configuring, and documenting security controls for cloud environments."
Use Anitian to drive your business forward.
Anitian makes security and compliance easy. Schedule a live demo today to learn more.