Watch On-Demand: Accelerate Your FedRAMP Journey for Container Security with Anitian & Sysdig
Hear how Anitian and Sysdig are helping businesses win contracts and enter new Federal markets. Together, they can reduce the time and cost required to meet FedRAMP requirements and dramatically accelerate time-to-revenue and FedRAMP compliance by up to 80%.
Watch On-Demand: How to Get FedRAMP Compliant and Give Your Business a Competitive Edge
Learn how AWS, Anitian, A-LIGN, and Carahsoft are helping cloud software vendors achieve FedRAMP to win new business, enter federal markets, and deliver value to their customers up to 80% faster and at 50% of the cost.
Watch On-Demand: Preparing for Your FedRAMP Journey: How to get audit-ready in just 60 days
Join professionals from AWS, Carahsoft, Anitian, and A-LIGN to discover how Anitian's pre-engineered Compliance Automation Platform on the AWS Cloud can cut FedRAMP time-to-compliance by up to 80% while slashing costs by 50%.
Watch On-Demand: Get FedRAMP Audit-Ready in 60 Days: Achieving the Fastest Time-to-Revenue
Learn how AWS and Anitian are helping government and business executives win contracts, enter new federal and state markets, and deliver value to their teams and customers faster. 
Watch On-Demand: How to Eliminate Security & Compliance Impediments on Your Journey to the Cloud
Join Anitian & AWS for this on-demand webinar to learn how you can eliminate costly security and compliance potholes on your journey to the cloud.
Watch On-Demand: Overcome Barriers to Unite Security & DevOps
Watch this on-demand webinar to learn how security and DevOps can overcome common barriers to bring security (as well as compliance) into full alignment with DevOps and CICD pipelines.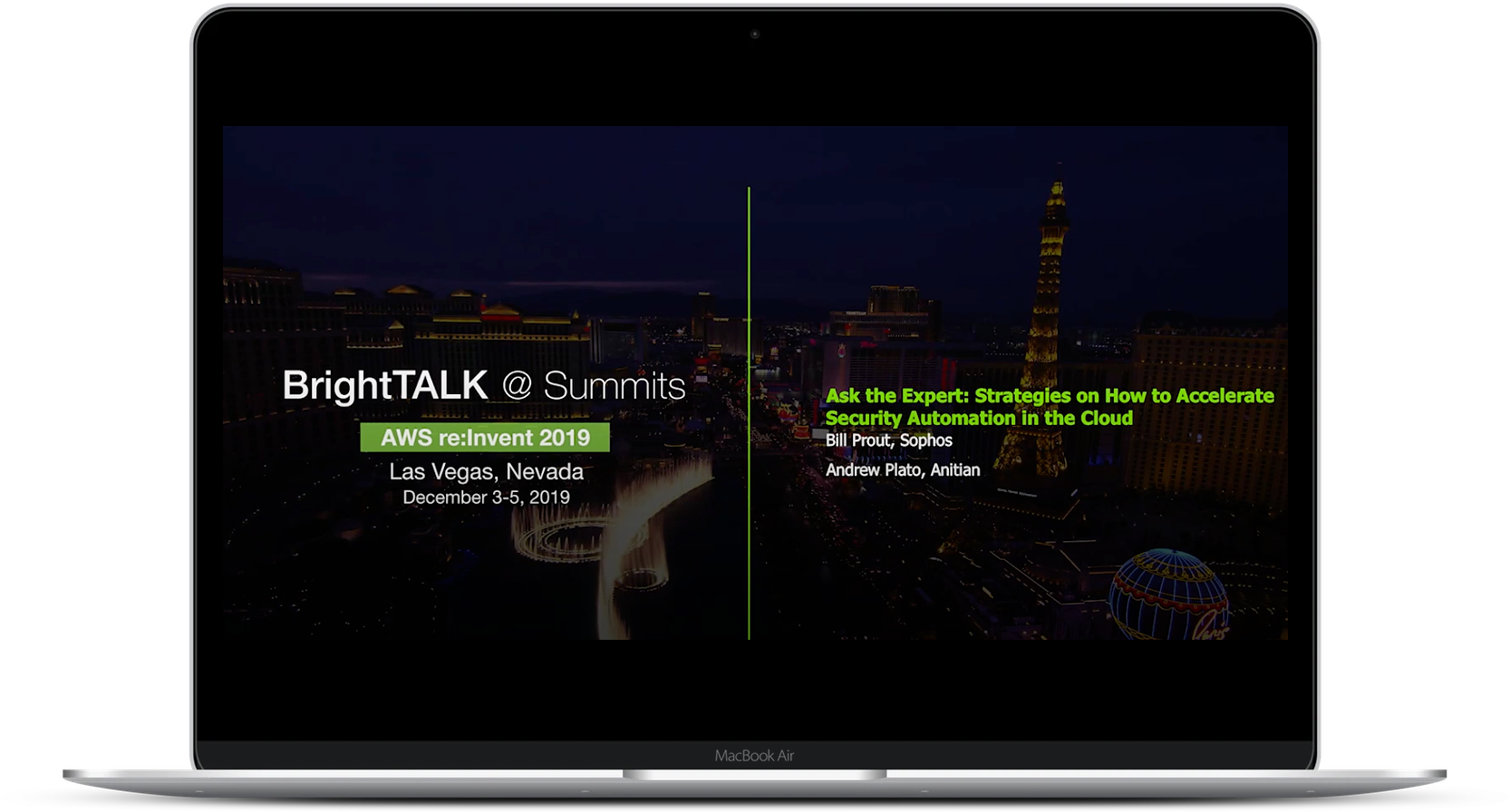 Watch On-Demand: Strategies to Accelerate Security Automation in the Cloud
Catch this exclusive, on-demand session from AWS re:Invent with Andrew Plato, CTO at Anitian, and Bill Prout, Director of Global Public Cloud Team at Sophos, as they discuss how to accelerate security automation in the cloud.
Gaining an Appreciation for Security | The Frontier Podcast
In this podcast interview, Andrew Plato, CTO & Founder of Anitian, chats about the future of security through automation and the new role of DevOps in building secure applications.
Anitian Compliance Automation Platform: 2-Minute Overview
[Anitian Explained]: Standardized Compliance Automation Platform for DevOps
FredRAMP Compliance at Ludicrous Speed | Anitian
Company Culture at Anitian
Compliance Automation is the Future of Compliance | Anitian
Escape from RSAC Social | Anitian
Anitian on the Road
BrightTALK at RSAC 2019: The Latest Advances in Cloud-Deployed Security Automation & Orchestration
Lesson 1: Barriers to Compliance in the Cloud | Anitian
Lesson 2: The Role of Compliance Automation | Anitian
Use Anitian to drive your business forward.