How do I stay FedRAMP compliant?
Receiving your FedRAMP Authority to Operate is a great cause for celebration!  But to maintain that status, FedRAMP requires continuous monitoring, monthly reporting and yearly detailed assessments.  Like all FedRAMP requirements, the mandated processes and reports are very specific and can be time-consuming and challenging for non-FedRAMP-experienced security teams.​
​
With the FedRAMP Comprehensive solution, Anitian's Compliance Automation Platform is integrated with a continuous monitoring service to provide an ongoing assessment of the security controls supporting your FedRAMP-approved solution. This enables you to efficiently and cost-effectively maintain your FedRAMP ATO status.​
THE ANITIAN APPROACH
Expert Guidance + Advanced Technology throughout the FedRAMP Phases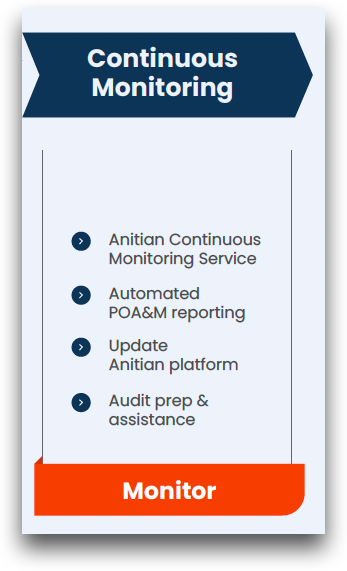 "Conmon" In a box
Continuous Monitoring for FedRAMP
Your FedRAMP Authority to Operate is conditional upon you maintaining – and demonstrating – the same level of security operations that you exhibited in passing the initial FedRAMP audits.  Anitian helps by providing a 24x7x365 security operations center in the U.S. staffed by accredited, trained US citizens meeting FedRAMP and U.S. government compliance standards.​
​
Anitian's experienced security engineers, using Anitian-developed automation tools, provide the ConMon (Continuous Monitoring) function mandated by FedRAMP.  This involves regular monitoring and assessing the security posture of your organization's information systems and infrastructure.  Anitian conducts vulnerability assessments, penetration testing, log analysis, and other security tests to identify weaknesses and recommended corrective actions.​
​
The Anitian team becomes a force multiplier, enabling you to focus your own in-house resources on other mission-critical activities.​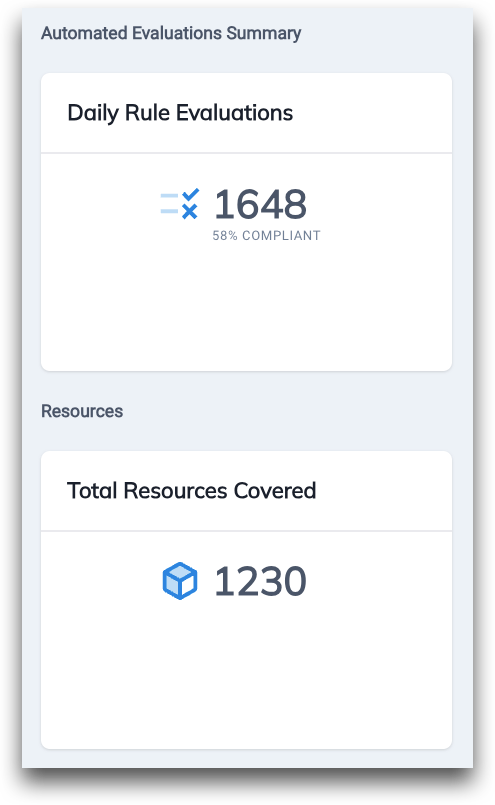 Rapid response
Managed Security Environment
​When Anitian identifies an issue within the customer's application environment, the security team quickly notifies the customer so your developers can update the necessary application components and provide the fix.  When an issue is identified within Anitian's security stack, the Anitian team takes full responsibility and swings into immediate action to resolve the issue.  Anitian also takes responsibility for proactive upgrading, tuning, patching, and overall maintenance of the security modules. ​
​
By Anitian managing the security infrastructure embedded with your application, the scope of your support responsibilities is significantly reduced.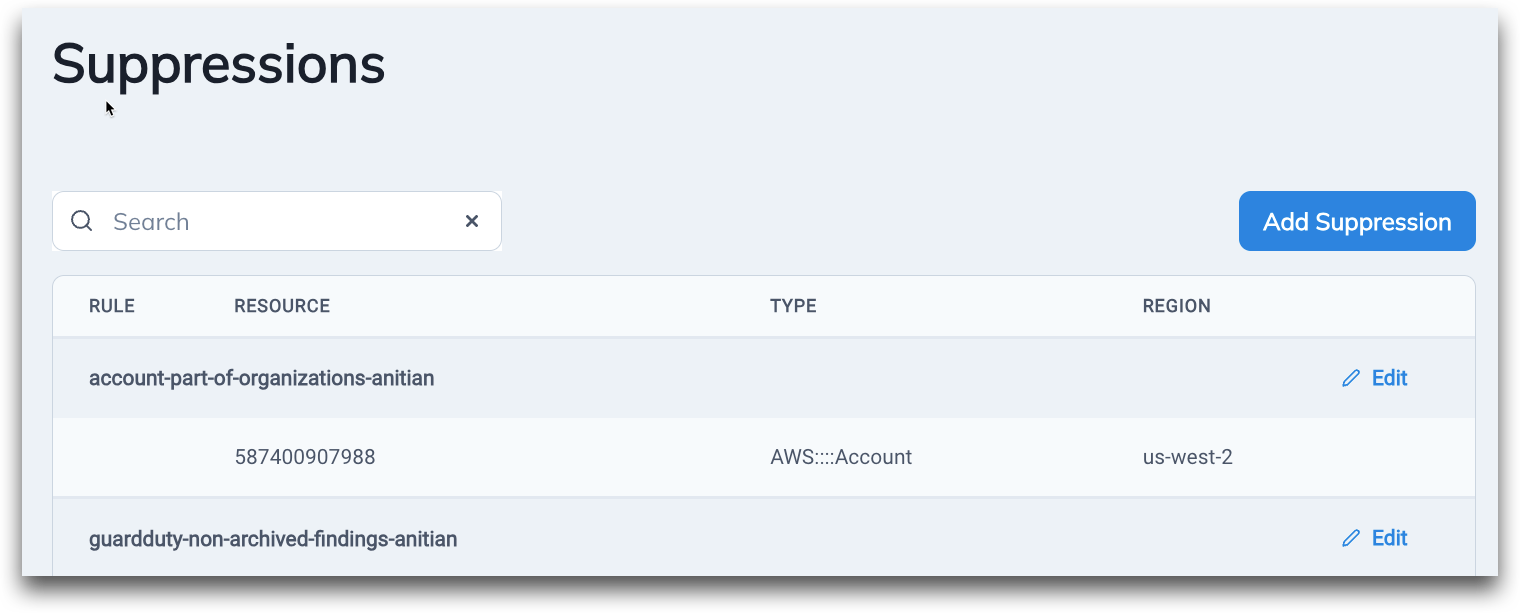 poa&m service
Ongoing Reporting & Auditing
​Results of the ConMon service are documented in a Plan of Action and Milestones (POA&M) report.  This important artifact provides a roadmap for addressing vulnerabilities, upleveling controls, and improving the overall security posture of the application.  This mandatory report includes an executive summary, a complete vulnerabilities list, raw scans, asset inventory, deviation requests, and any applicable evidence.  Anitian works with you to ensure the POA&M is submitted accurately and within the prescribed timeline.​
​
As we did during the Authorization phase, Anitian provides expert guidance during your FedRAMP ConMon audits, assisting with evidence collection, report creation, and helping to respond to audit findings.​
​
Taken together, Anitian's ConMon and POA&M services keep you compliant without the need for dedicated, FedRAMP-knowledgeable compliance engineers.​
ANITIAN IS YOUR FEDRAMP EXPERT
Explore More Resources: