What Is the Impact of Slow FedRAMP Approval? | GovLoop
"Federal agencies are under increasing pressure to modernize IT infrastructure and improve efficiencies across the board. To do that, they need to replace legacy infrastructure and applications with modern, secure cloud-based solutions."
Streamlining FedRAMP Compliance With Automation | Carahsoft Blog
"When it comes to using cloud computing, federal agencies turn to the Federal Risk and Authorization Management Program (FedRAMP) to certify that their cloud-based solutions are secure and compliant with federal regulations."
For Most Companies, Securing Remote Work is Unfinished Business | Infosecurity Magazine
"I don't see a way to safely accelerate the move to cloud without DevSecOps as part of the equation to maintain quality and incorporate security into the transition, potentially utilizing the expertise and software of DevSecOps providers such as… Anitian to assist."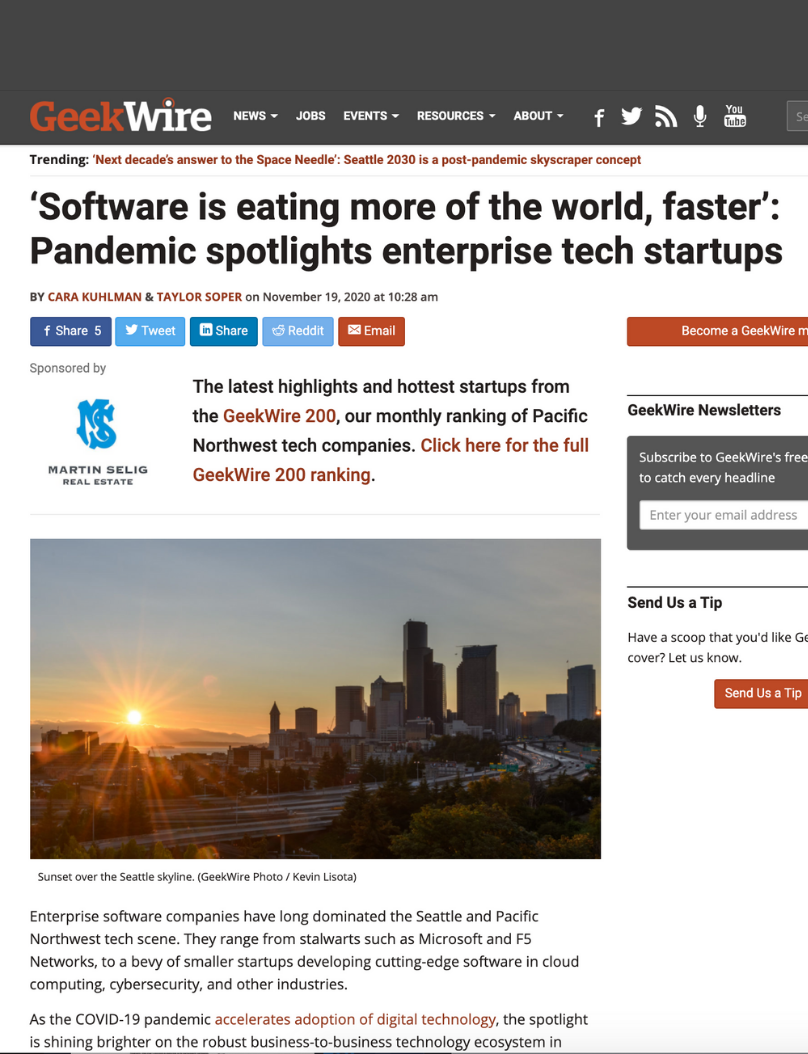 'Software is eating more of the world, faster': Pandemic spotlights enterprise tech startups | GeekWire
"Among enterprise software startups… Anitian (No. 176) had the biggest upward movements."
Goldman Sachs and JPMorgan will freeze software updates around the US election to minimize service outages, report says | Business Insider
"Outages set off by disruptive software updates could be an opportune moment for cybercriminal attacks, the Information said, citing Andrew Plato, CTO and Founder of cloud-security firm Anitian."
NIST 800-53 compliance for containers and Kubernetes | Sysdig Blog
"Anitian offers compliance as a service for companies with an emphasis on NIST 800-53/FedRamp. By embedding Sysdig into the Anitian solution, customers will be able to meet their regulatory compliance requirements."
Remote workforce, web portal, and DevSecOps: Three focus areas for cybersecurity | AWS Public Sector Blog
"Anitian, an AWS Advanced Technology Partner, created Anitian's SecureCloud, an automated, pre-engineered security platform that accelerates DevOps. SecureCloud eliminates the frustrating and time-consuming effort of architecting, deploying, configuring, and documenting security controls for cloud environments."
Anitian Launches SecureCloud On AWS: A Cloud Security Service Pre-Engineered To Deploy And Protect Your Mission-Critical SaaS Applications | AiThority
"SecureCloud addresses a daunting challenge for business, DevOps, and security leaders: rapid deployment of applications and services to customers – without sacrificing security measures or privacy protections."
Anitian unveils SecureCloud on AWS, enabling rapid and secure deployment of mission-critical apps | Help Net Security
"Anitian's SecureCloud is the next evolution for customers to shift their mission-critical apps into a pre-engineered and secure environment with the most stringent security standards and controls."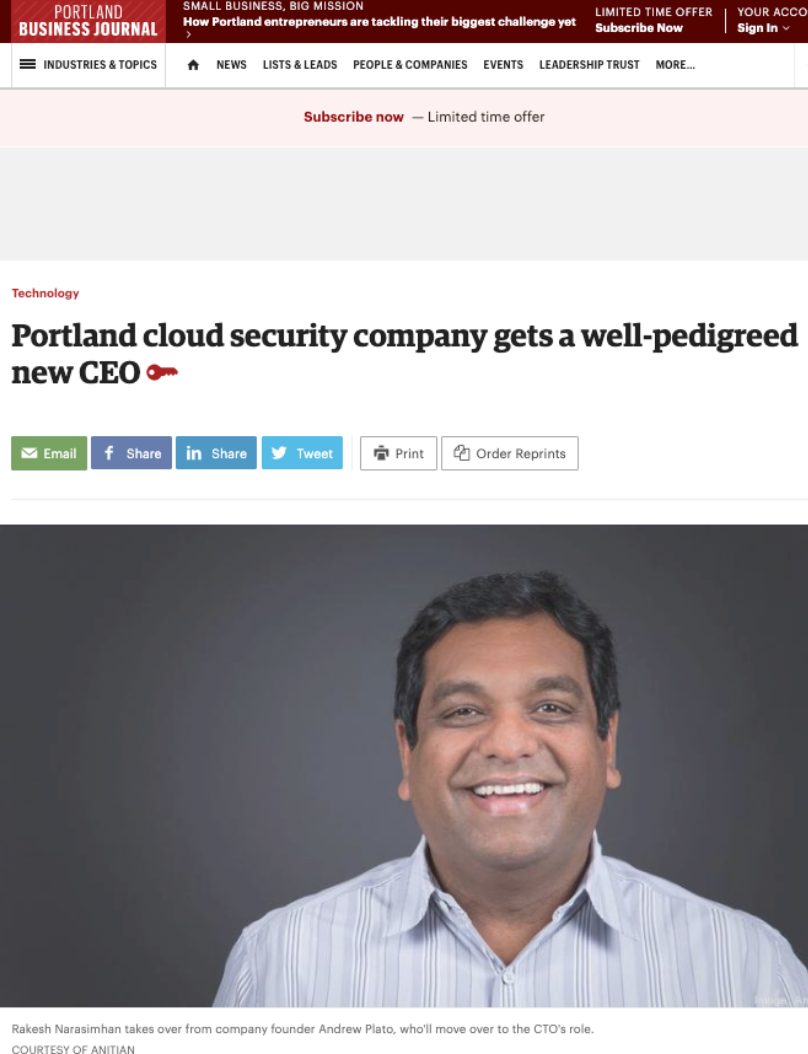 Portland Cloud Security Company Gets a Well-Pedigreed New CEO | Portland Business Journal
"A tech vet with experience at Microsoft, Oracle and Citrix will take the reins of a Portland cloud security and compliance automation provider. Rakesh Narasimhan takes over as Anitian's CEO from Andrew Plato, the company's founder who'll become CTO."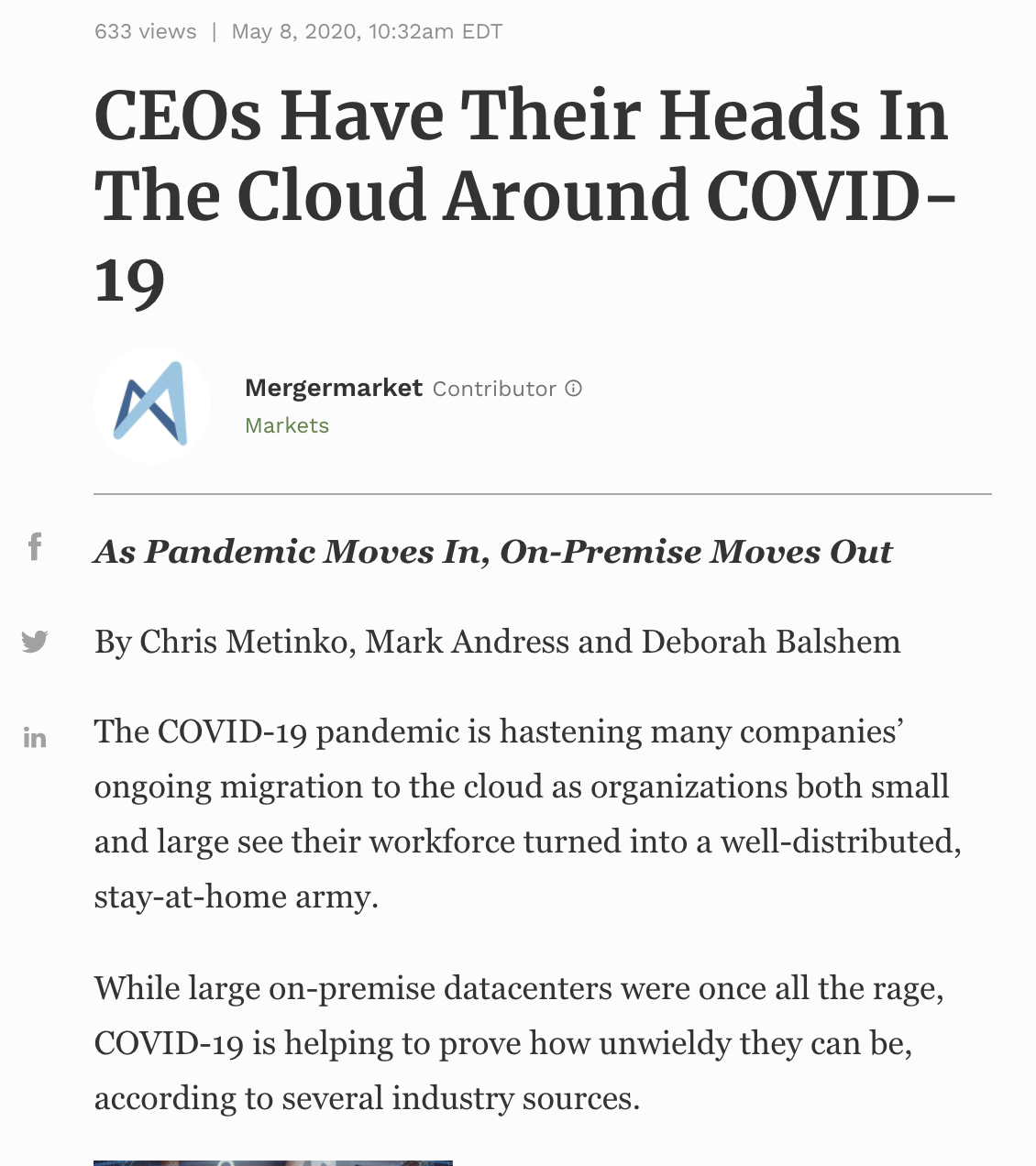 CEOs Have Their Heads In The Cloud Around COVID-19 | Forbes
"This is a massive shift, and people have to understand that," added Andrew Plato, CEO of Portland-based cloud security provider Anitian, noting that his business has shown to be "recession-proof" during the crisis.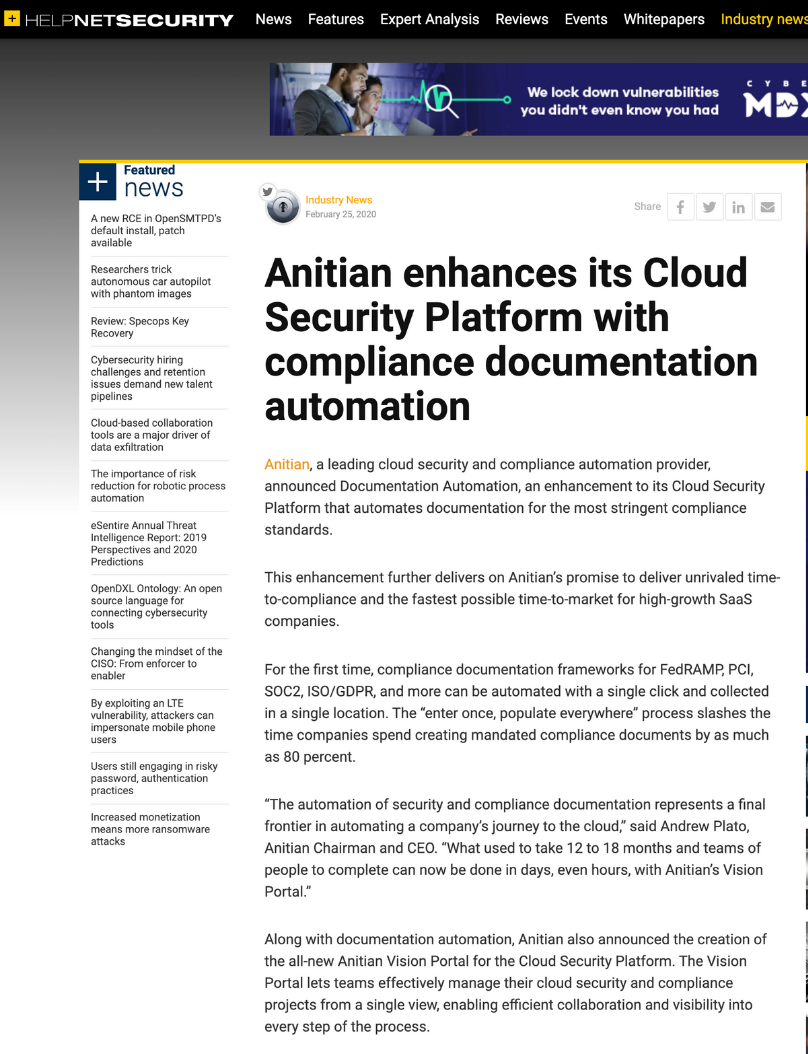 Anitian enhances its Cloud Security Platform with compliance documentation automation | Help Net Security
Anitian, a leading cloud security and compliance automation provider, announced Documentation Automation, an enhancement to its Cloud Security Platform that automates documentation for the most stringent compliance standards.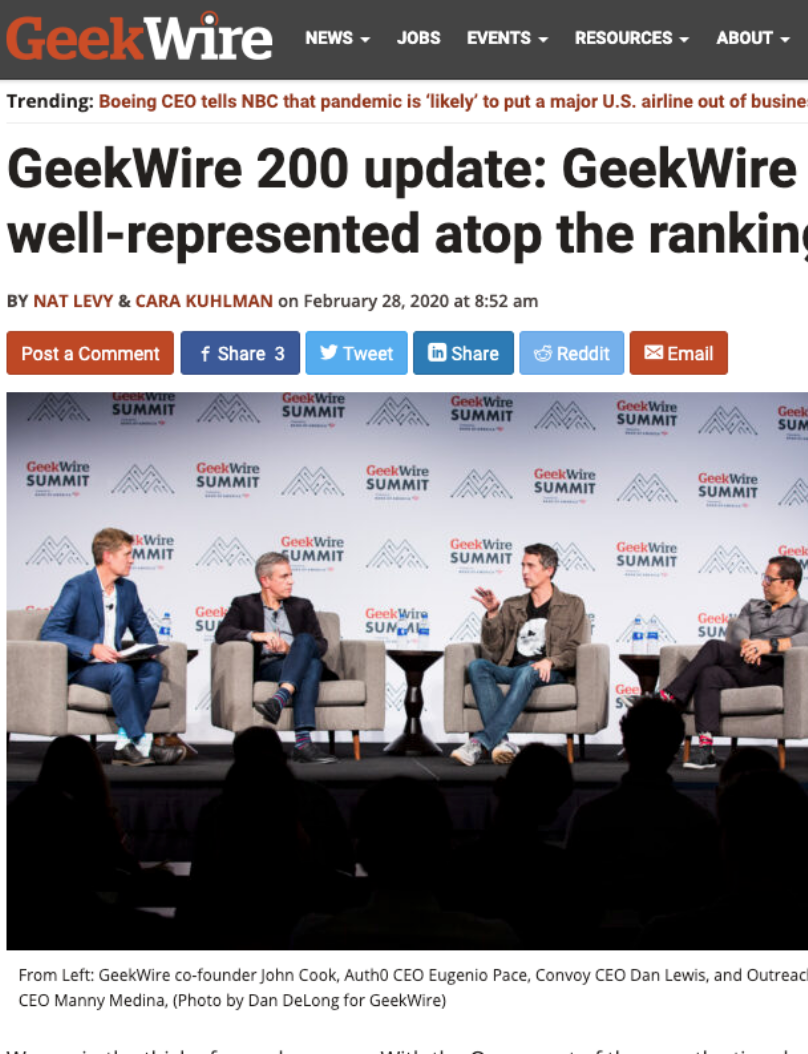 GeekWire 200 update: GeekWire Awards finalists well-represented atop the rankings | GeekWire
Four companies debuted on the GeekWire 200 this month: lifestyle startup Bulletproof (#27), cannabis genetic testing company Phylos Bioscience (#122), threat intelligence and risk management platform Echosec (#187), and compliance automation company Anitian (#197).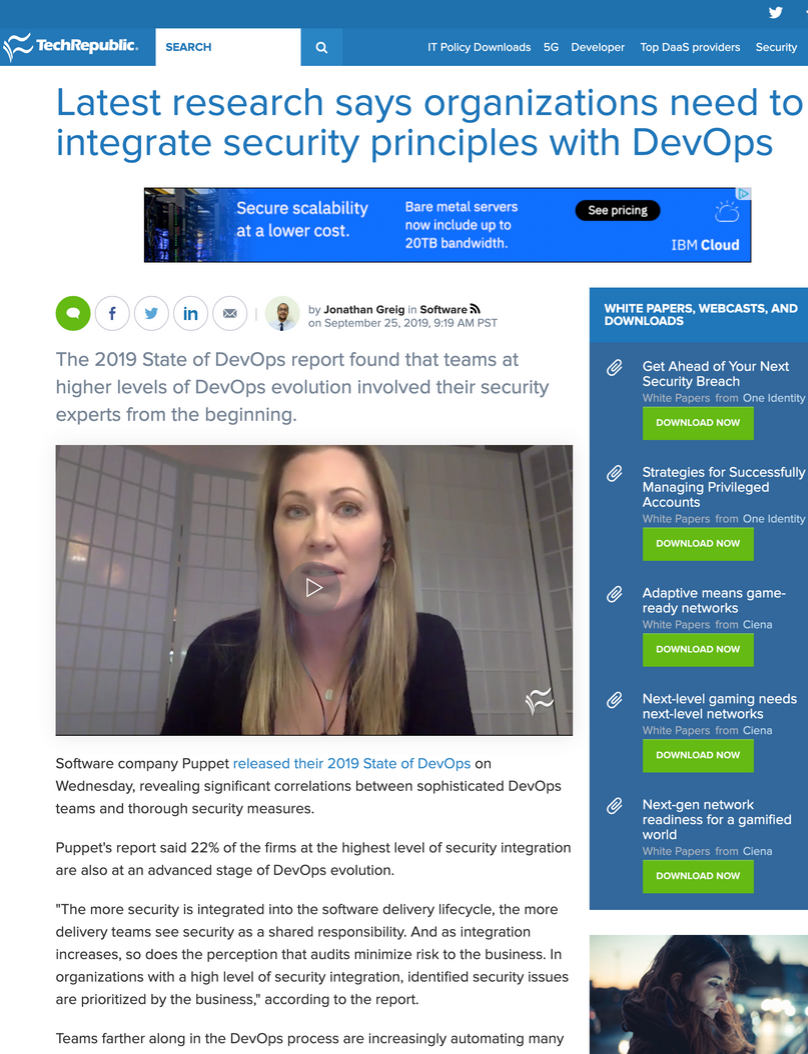 Latest research says organizations need to integrate security principles with DevOps | TechRepublic
 "While the report outlines many problems, it also highlights the gains that arise when DevOps and security are fully integrated," said Andrew Plato, CEO of cybersecurity firm Anitian."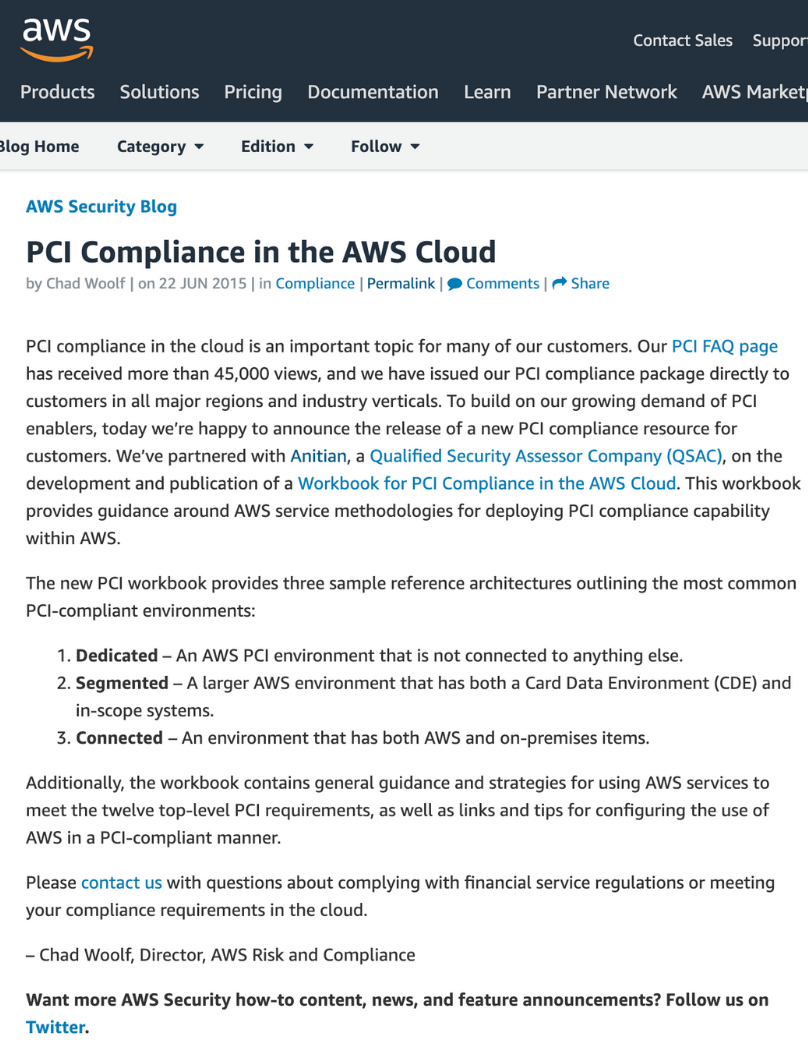 PCI Compliance in the AWS Cloud | AWS Security Blog
"We've partnered with Anitian, a Qualified Security Assessor Company (QSAC), on the development and publication of a Workbook for PCI Compliance in the AWS Cloud. This workbook provides guidance around AWS service methodologies for deploying PCI compliance capability within AWS."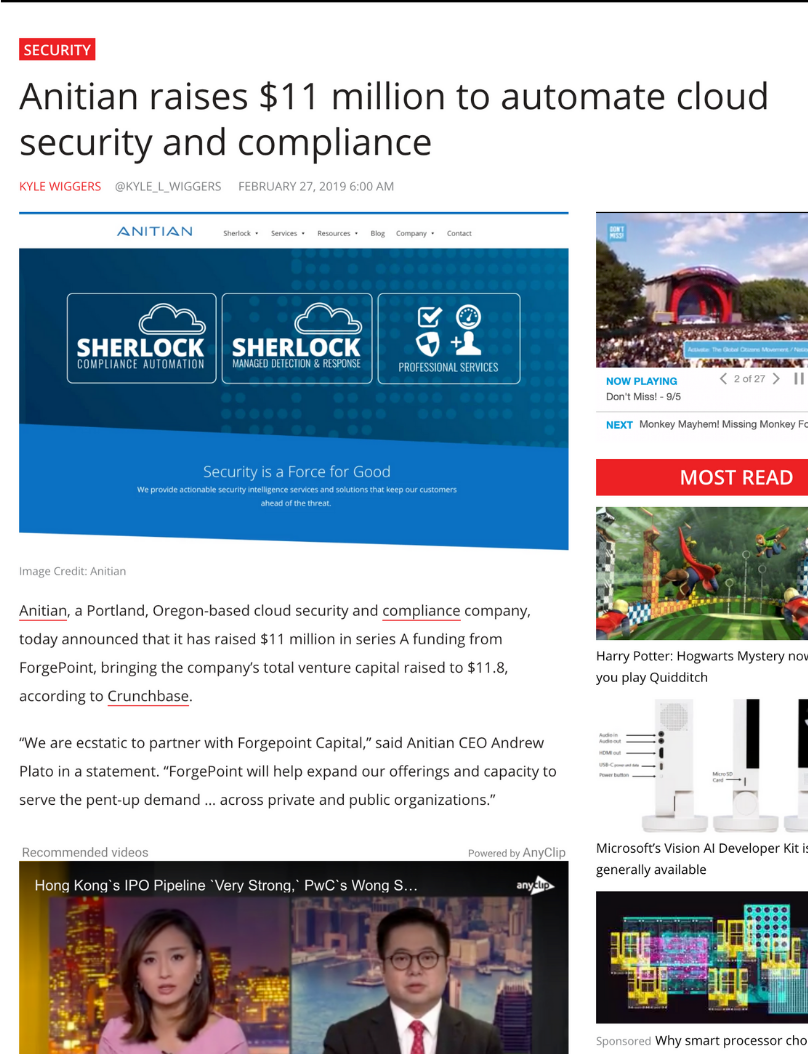 Anitian raises $11 million to automate cloud security and compliance | VentureBeat
"Anitian, a Portland, Oregon-based cloud security and compliance company, today announced that it has raised $11 million in series A funding from ForgePoint, bringing the company's total venture capital raised to $11.8, according to Crunchbase."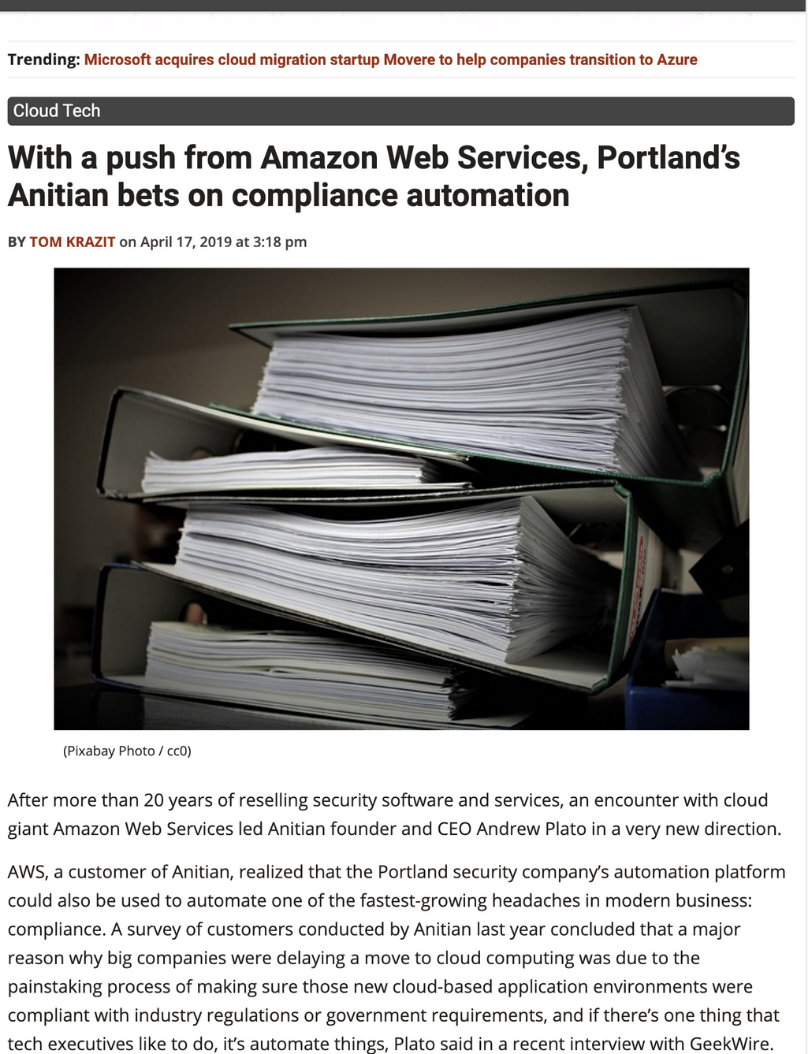 With a push from Amazon Web Services, Portland's Anitian bets on compliance automation | GeekWire
"AWS, a customer of Anitian, realized that the Portland security company's automation platform could also be used to automate one of the fastest-growing headaches in modern business: compliance."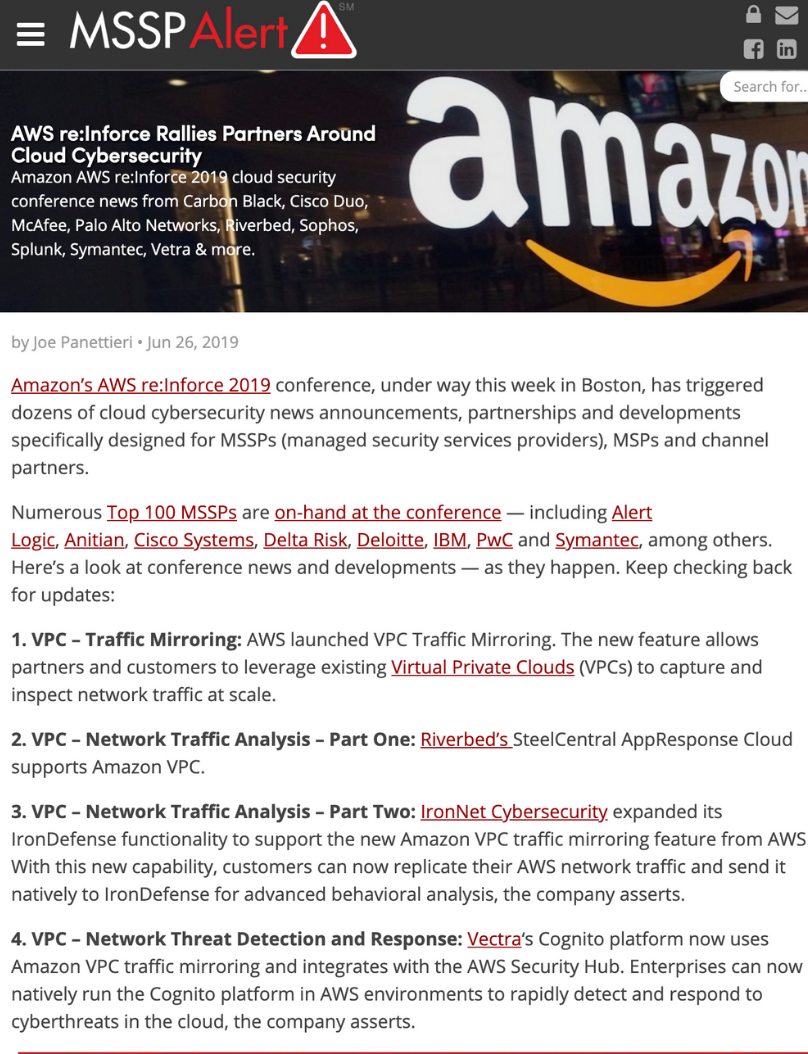 AWS re:Inforce Rallies Partners Around Cloud Cybersecurity | MSSP Alert
"Amazon's AWS re:Inforce 2019 conference, under way this week in Boston, has triggered dozens of cloud cybersecurity news announcements, partnerships and developments specifically designed for MSSPs (managed security services providers), MSPs and channel partners."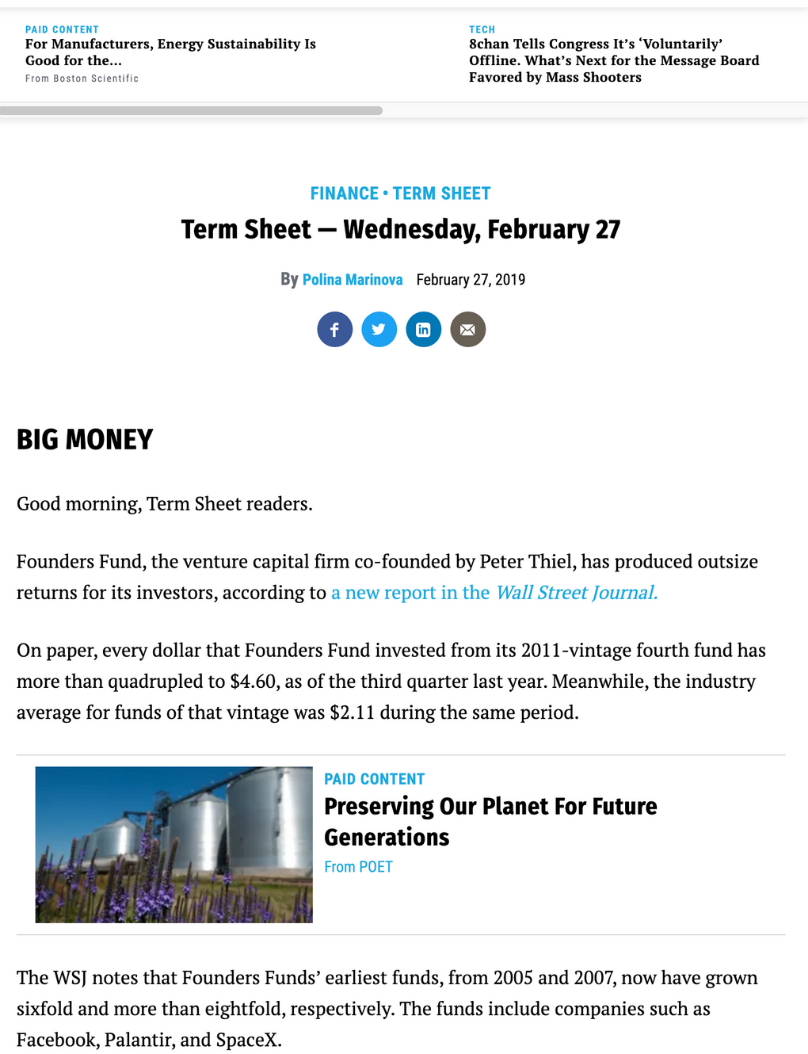 Term Sheet — Wednesday, February 27 | Fortune
"Anitian, a Beaverton, Oregon-based cloud security and compliance automation company, raised $11 million in Series A funding. Investors include ForgePoint Capital."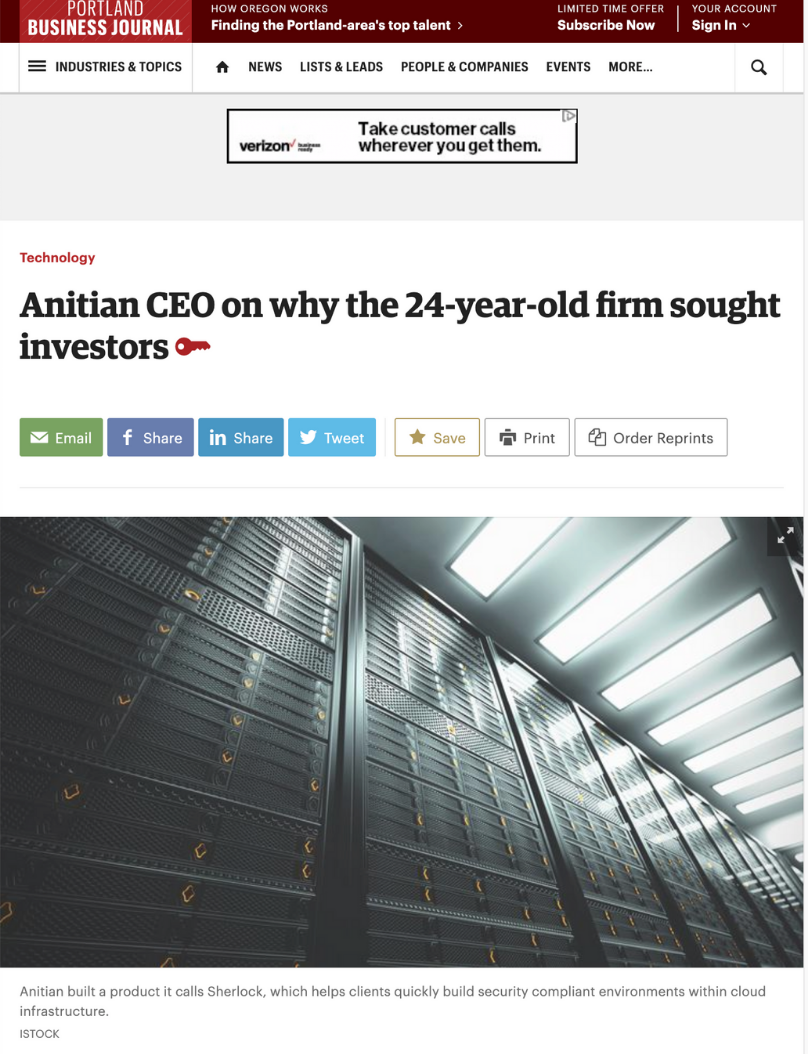 Anitian CEO on why the 24-year-old firm sought investors | Portland Business Journal
"The cybersecurity services and research company has built a solid base of customers but now it's looking to push a product to market."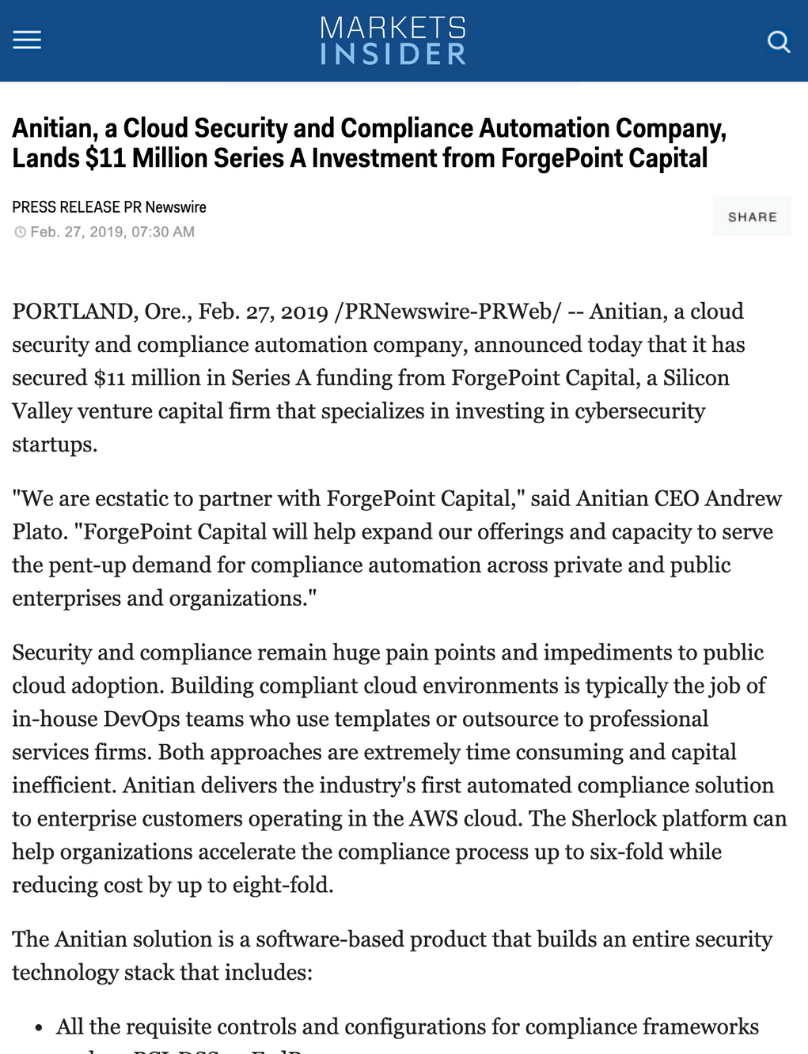 Anitian, a Cloud Security and Compliance Automation Company, Lands $11 Million Series A Investment from ForgePoint Capital | Business Insider
"Anitian, a cloud security and compliance automation company, announced today that it has secured $11 million in Series A funding from ForgePoint Capital, a Silicon Valley venture capital firm that specializes in investing in cybersecurity startups."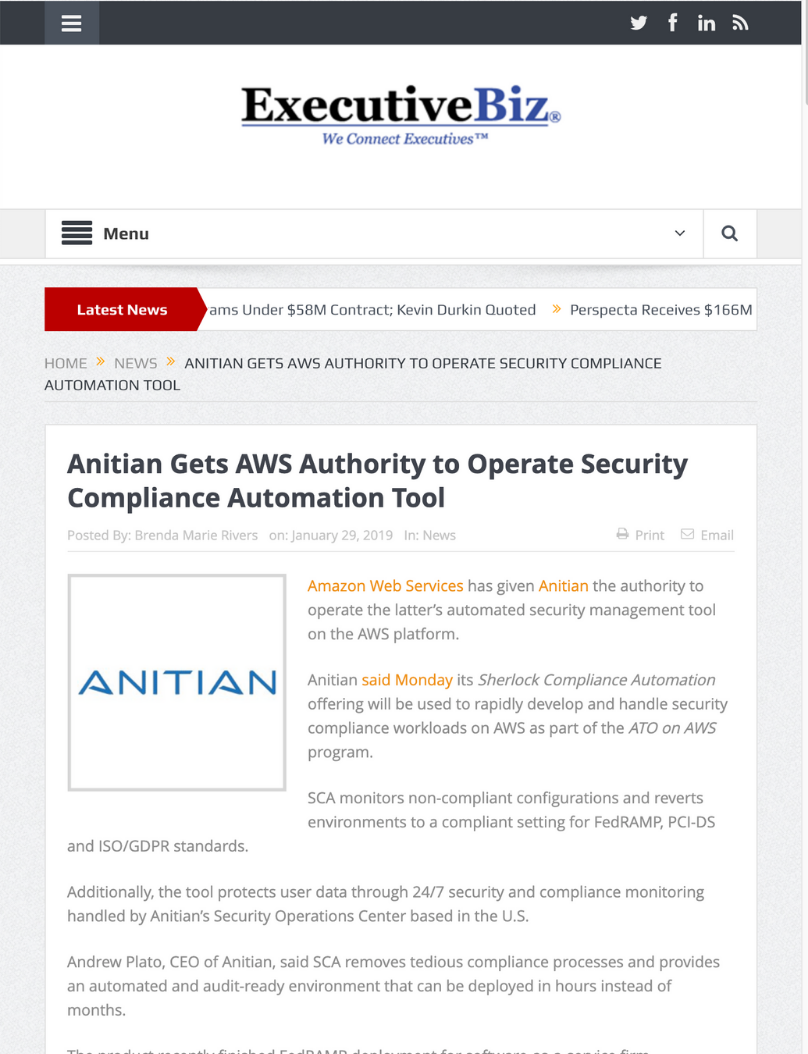 Anitian Gets AWS Authority to Operate Security Compliance Automation Tool | ExecutiveBiz
"Amazon Web Services has given Anitian the authority to operate the latter's automated security management tool on the AWS platform."
Amazon Web Services (AWS) And Anitian Are Bringing Security Automation To The Cloud | AiThority
"The cloud has become the place for scalable, strong, and stable security. High performance companies are moving not only their data and applications to the cloud, but also their security. To emphasize this trend, Amazon Web Services (AWS) and Anitian will host a series of talks on security and automation in the cloud during the RSA Conference this year."
Use Anitian
TO DRIVE YOUR BUSINESS FORWARD